To an investment cooperation scheme for an alternative reinforced cement building material project
Start time:2022-07-04
Participants:
To replace reinforced concrete building materials is made of straw, straw, sawdust, old wood, plant fiber, fly ash and other main raw materials,Use core technology and special equipment to produce all kinds of green building materials,HUMAN HEALTH TECHNOLOGY SHARING GROUP LTD(Hereinafter referred to as: Shared Public International Platform),In the world to attract investment, cooperation in production, sales contact negotiations and other services;HHTS building materials series products are listed as national Spark project, national environmental protection promotion project, major science and technology project of Sichuan Province, national authoritative inspection products, national key new products,In November 2008, it became a global promotion project of the United Nations South-South Global Technology Equity Exchange,Obtained iso9001:2008 Quality System Certification in 2008;In 2009, the United Nations awarded zhou HHTS "Outstanding Innovation Award".In 2016, HHTS's products obtained the "Urban and Rural Construction Product Certification".;In 2018, it obtained the Special Atlas of Standard and Prefabricated Housing Structure of China Engineering Construction Association;In 2019, it obtained 3 national invention patents for "earthquake-resistant house", known as "major scientific and technological achievements of the 21st century". It has successively obtained more than 50 national patents and more than 30 honors at home and abroad.
HHTS Building Materials Headquarters will provide whole-process tracking services from technical training, production equipment, processing specifications, management concepts, marketing strategies, after-sales services and other aspects,Let partners easy operation, rapid development.HHTS Building Materials and HHTS share an international platform and cooperate with each other globally with unmatched technical advantages!

1、Instead of reinforced concrete building materials performance advantages:
High strength: the compressive bearing capacity of the material is 22.5 times greater than that of traditional building materials;
High seismic: seismic fortification intensity of 9 or above;
High wind resistance: can resist 12 wind attack;
High snow resistance: 1-2m roof snow resistance;
High heat insulation: the wall heat transfer coefficient is low, up to 75% energy savin
High waterproof: the material soaked in water for decades without any change;
High fire prevention: reach the national grade A fire prevention standard, can resist major fire;
Ultra high life: building life of more than 50 years.Raw materials treated with the core technology of HHTS Building Materials can effectively resist termite infestation.
2、 Production of materials seven no, seven anti characteristics:
Seven no: no steel bar, two no cement, three no brick, four no beam, five no column, six no stone, seven no member;
Seven prevention: one fire, two waterproof, three shockproof, four anti-freeze, five anti-crack, six anti-aging, seven anti-moth;
Buildings and Bridges built with green building materials have no steel bar, cement, brick and tile, but the cost of buildings and Bridges built with green building materials should be reduced by 30%, and the construction speed and time of buildings and Bridges can be saved by 20%;
3、Green building materials prefabricated building fire detection:
The building with green building materials, by the national Fire building materials quality supervision and testing center detection report shows: After the furnace temperature is above 1000° and the fire resisting time is 188 minutes, the hollow plant fiberboard is intact,Average outside temperature is 53°, the highest temperature is 73°, and the lowest temperature is 32 to 38° (the normal temperature forecast for that day);
4、Distribution diagram of HHTS Building materials cooperative factory:
HHTS's technology and products have been exported to dozens of countries in Africa, Southeast Asia and other countries.More than 40 million square meters of residential housing have been built in Ethiopia.The platform's products are designated as affordable housing by the Russian Ministry of Commerce;
Now it is vigorously promoting to domestic and foreign markets and has set up cooperative factories in many provinces and regions in China;
5、 HHTS green prefabricated building fire test site:
6、Waterproof test of HHTS building materials:
7、HHTS Building Materials 5.12 Wenchuan 8 earthquake successful seismic case:
HHTS built 1,073 houses in the Wenchuan earthquake zone, but none of them collapsed in the 8.8-magnitude earthquake on May 12, saving countless lives;
Before the earthquake, "Beichuan Hotel" is an 8-story building, the lower two floors for brick structure, the wall of the upper six floors using HHTS ecological building materials, in the earthquake in Beichuan county most of the houses collapsed, and "Beichuan Hotel" the lower two floors collapsed and damaged, the upper six floors fell as a whole, still standing;
8、HHTS building materials compressive bearing test site:
Chengdu Product quality Supervision and inspection institute to the platform sampling detection:
Test Report NO. : M-20135043/ Test Date: 2013-12-05 to 2013-12-21;
Test results: bending bearing capacity (multiple of plate weight) technical requirements ≥1.5, test results for compressive bearing capacity greater than the national standard ≥22.8 times
9、Technology advantage:
Super fast construction speed: save more than 90% labor than brick and concrete structure, improve the speed of more than 90%;
Highly industrialized: all structural parts factory modular processing, on-site assembly, assembly rate of 100%, a 200 square meters of the main villa can be all installed in two or three days;
Small labor intensity: the plates are factory prefabricated, the construction is mostly mechanical, labor and time saving;
Cleaning construction: mostly dry work, no garbage, no sewage, no dust;
Because the structure is light, the dead weight is reduced by 60%, the foundation engineering is greatly reduced, and the foundation cost is reduced by more than 30%;
load of the main structure is 50% lower than that of brick and concrete, 20% lower than that of traditional steel structure, so there is no need for fat beam thick column, beam column and bearing frame size is greatly reduced, and the main cost is reduced by 30%.Short construction period: reduce labor cost and loan interest cost by 20%;
Compared with brick-concrete structure: all the costs of masonry mortar and plastering mortar can be eliminated, and the cost can be reduced by 10%-15%.
Compared with traditional steel structure: the cost of the enclosure system is lower, reducing the cost by 5%-10%.Light weight, less material consumption, cheap raw materials.Material freight can be reduced by 3%-5%;
HHTS materials can be built villas, office buildings, hotels, new rural housing, national housing, army logistics support housing and training mobile folding housing, etc;
Also can do underground large caliber pipe network projects, poles, Bridges, roads, fire doors, fire furniture and so on;
12、Target market:
1、Farmer's residence, farmhouse, township complex;
2、Beautiful villages, small towns, low-income housing, rebuilding rundown areas, post-disaster reconstruction, resettlement;
3、villa;
4、All kinds of commercial, tourism, health, culture, leisure, pension real estate, etc;
5、Urban original demolition, original construction, old house layer, etc;
13、Ethiopian Buildings:
14、Chengdu 'King of the World' villa:
15、Strength crusher at the same time do destructive test comparison: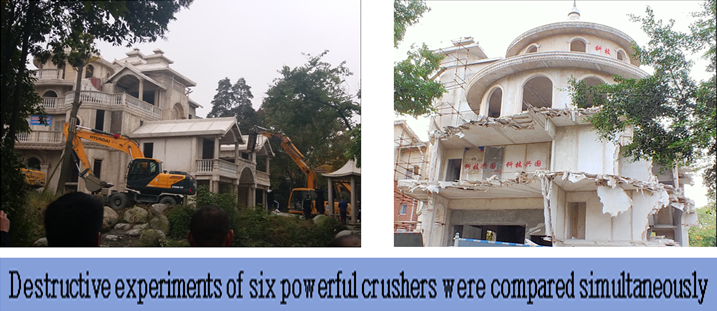 16、A building built on a plateau: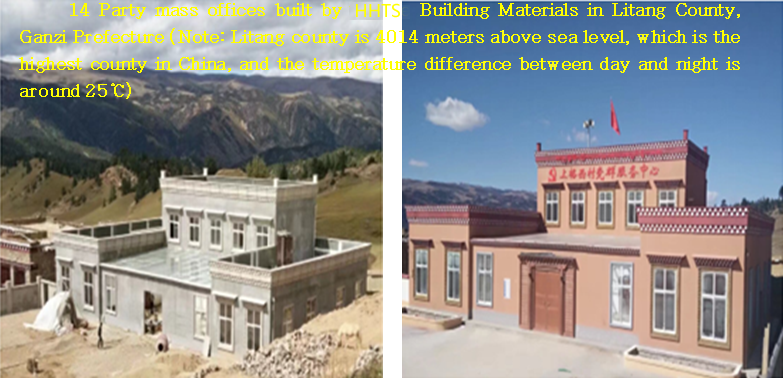 17、A private house built in Tibet: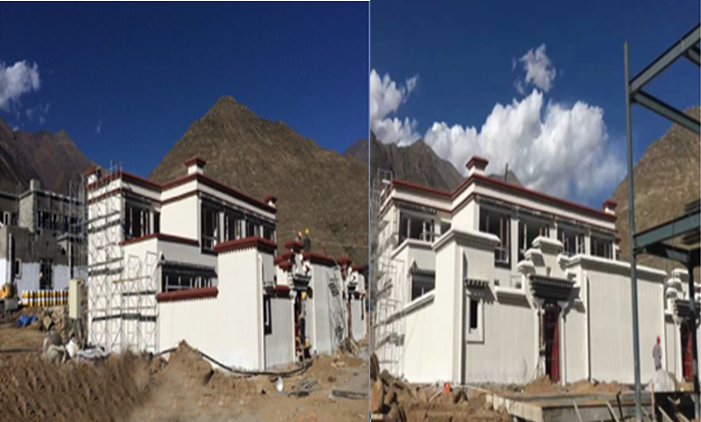 18、Barracks built for the army: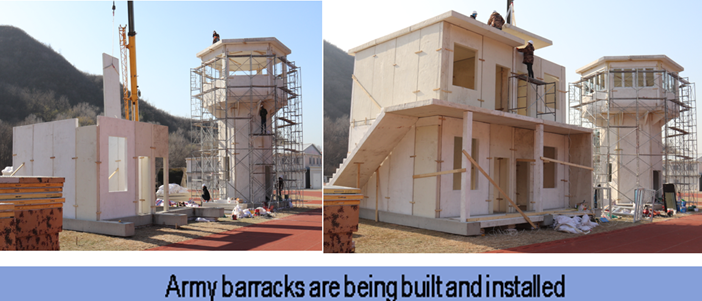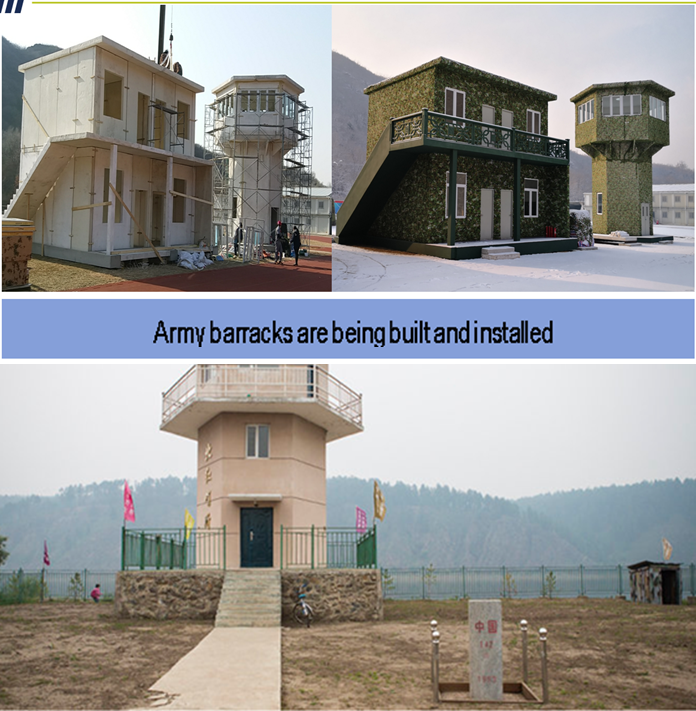 19、Project investment cooperation mode:
to replace reinforced concrete building materials is made of straw, straw, sawdust, old wood, plant fiber, fly ash and other main raw materials,Use core technology and special equipment to produce all kinds of green building materials,HUMAN HEALTH TECHNOLOGY SHARING GROUP LTD(Hereinafter referred to as: Shared Public International Platform),In the world to attract investment, cooperation in production, sales contact negotiations and other services;